Historic Circuit

See map
The circuit comprises a set of buildings related to the port and railway activities located in downtown Comodoro Rivadavia.
It start at the former plant of the Port of Comodoro Rivadavia, currently CEPTur (Exhibition Center and Tourism Promotion), located at the crossroads of two major arteries of the city: National Route 3 (Av Hipolito Yrigoyen) and Mariano Moreno. This area was declared a National Historic Landmark and Provincial Heritage, one of the few buildings that the city has recycled.
Then continue touring other historical facilities related to the port, such as port warehouses, housing of staff at that time (1932), water tank, pump house and workshop of the port.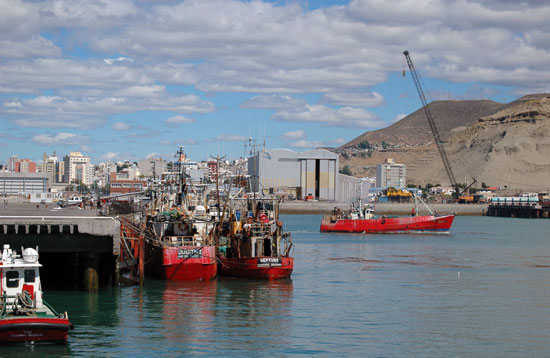 View of the port of Comodoro and the boats. Photo courtesy Agencia Comodoro Turismo.
Also you will visit the Ex - Railway Station, located on Avenida Rivadavia and 9 de Julio, to reassess the importance afforded to the community in those years, that allowed to operate and repair the rail that allowed communication between Sarmiento and Comodoro Rivadavia facilitating economic and social development in the area.
The places mentioned above form a circuit allowing cultural historical value the role they had in that time and evaluating the work of those men who make history. This is why we visit the current port of Comodoro Rivadavia, with its new infrastructure, designed to meet the demands of general merchandise traffic, the fishing and ship repair in the medium term.