The first adventures in the Patagonian skies

See map
Miss Camila Simonato, a villager of Comodoro, remembers pioneering aviators. Camila Raquel Aloyz Simonato is a strong woman, grizzled and well planted, despite its notable hip problem. A stick of oak in his footsteps, guided by a lively brown eyes. The face, makeup for visitors, is adorned with a smile when she starts to remember those days of prowess in the air.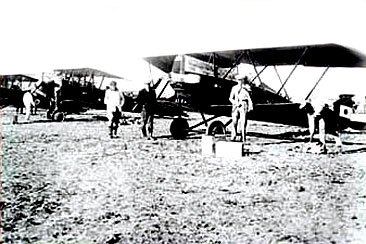 The first planes arriving at Comodoro Rivadavia.
Camila is Julio Aloyx and Camila Giubetich's daughter. His father, "the crazy Russian," was the one who insisted to smooth a golf course for the first aircraft that went to Patagonia land there. In addition, his father had French Aeroposta agency and then the airlines.
"I finished my studies at age nine at school MAría Auxiliadora de San Julián (about 450 kilometers south of Comodoro Rivadavia)- tells Camilla- and then went to North Lands in Federal Capital, two blocks of the fifth presidential Olivos. We went by boat: the Asturian, Commodore or Jose Hernandez. "
When she went to Buenos Aires she didn't return to Patagonia for nine months, stayed in school pupil. The trip by boat demanded 7 or 9 days and the winter holidays were not enough to make the return journey by sea. In winter could not fly.
"In December 1931 I made my first plane ride. I was 10 years old ... came together with a married couple, newlyweds, Dr. Fernandez with his wife, Alicia ... were from Puerto Deseado, and M. Durand, very fat ... when the newlyweds went down, the pilot, who was none other than Palazzo said: 'Duran sit down in the middle that you upset me all, and you sit down anywhere Camilita, if you want lay down in the front seat,' and he gave me a candy ... flying was like a dream it was like a dream, I was amazed... that trip ... anyone can remove it from the head. "
"I was never afraid to fly because, like all the girls in Patagonia, I loved playing with the wind ... well, when I was a girl, I was madder than a goat ... with my friends turned against us bursts with a poncho, and a jacket with what we had on hand and we let the wind take us ... when loosened, we fell, and we kept up over and over again ... so I tell that the child when grown in Patagonia, in this environment, they grow strong, with strong character, because we become strong because of the climate. "
But she is aware that being strong does not mean not being afraid, that's a bluff liar.
"Like everyone else you have a moment of fear when you are there to climb or if you grab an air shaft or the plane shakes you, you are afraid ... no-fear does not exist ... you feel your heart beat stronger... but you surpassed all that because it was so wonderful to fly back home ...".
Today, Camila, feel helpless and disconnected from the rest of the country. The suspension of flights by airlines of the State (LADE) left stranded many towns of Patagonia.
"LADE, when the farms were isolated by freezing, from above they throw food and medicines, took care of us ... now we're naked ... the suspension of flights has meant everything went back .. think in terms of money .. . we miss the "lechero", as we called LADE aircraft ...".
Camila gets up early every day, prepares the "mate" and read the newspaper, "to shake the neurons," she says smiling. Her body sculpted by years, every so often asks for a truce and retired to rest. Invariably a book accompanies her by the bed. After that, feeling better, continue with their daily tasks, write and paint (his current hobbies). And she will tell her memories. There is always a curious hand knocking on her door.