Recipe to spend great family holidays

See map
The Secretary of Tourism of Esquel offers a 10 days schedule to enjoy the innovations in Esquel with family or friends.
Day 1: Make the lake trip to Los Alerces National Park visiting the Abuelo del Bosque, a larch of 2600 years.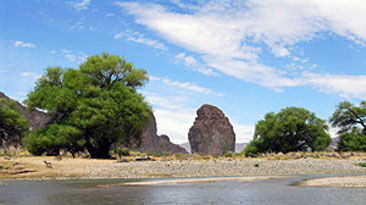 View of the stone that was named after the Protected Natural Area (day 8).
Day 2: Travel in the Old Patagonian Express or La Trochita, a journey through time and history, later delighting with the visit to Organic Fine Fruit Farm and to the Lithuanian Museum.
Day 3: On a raft make rafting in Corcovado.
Day 4: Walk in the paths of the Los Alerces National Park and then simply relax on the beaches of crystal clear lakes.
Day 5: Visit Trevelin, on a tour of museums, historical school and the circuit of Route 259 where it is the Protected Natural Area Nant and Fall Cascades and a trout hatchery.
Day 6: Go horse riding through the hills around the city by combining history, adventure and nature going through a mountain landscape with steppe with large canyons. Stop and make Canopy, sport that allows moving from platforms in the trees in the middle of a wooded area near the Los Alerces National Park, for then enjoying a Patagonian lamb. And for those who still have energy, a sunset on bike through Esquel.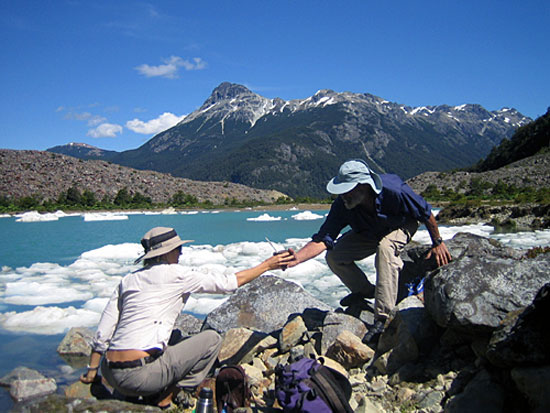 A splendid evening on the shores of the lake drinking Mate during the trip to Torrecillas glacier.
Day 7: Go to Los Alerces National Park and make a new trip to Glacier Torrecillas where peaks surrounded by woods, totally pristine environments and a beautiful deep emerald lagoon where ice blocks float are waiting for you. Or enjoy the eternal snows on La Torta Hill where in summer you can see the Ice Tunnels. You can supplement this activity with a visit to the Interpretation Centre Park Museum or knowing the paintings.
Day 8: Perform a full day excursion to the Natural Protected Area Piedra Parada. In the heart of Patagonian steppe and in the middle Chubut River valley lies the impressive volcanic rock of 210 m tall. The place was the furnace of an ancient volcano whose chimney was solidified, giving rise to unique geological formations.
Day 9: Spend a day of fishing in rivers and lakes with floating included. To then down quiet rivers which is a pleasant experience. Within the Los Alerces National Park, Rivadavia river is one of those chosen for this activity.
Day 10: Enjoy a cruise on 4x4 to Protected Natural Area Lake Bagglit. Enjoy bird watching, from the majestic condor to the restless and small Andean hummingbird. This is an unforgettable experience in which you can observe birds in their natural habitat.