The port: engine of development of the city

See map
Usually, there are two reasons for the birth of the coastal cities, as tourist beach or fishing and commercial port. Puerto Deseado refers to the latter, since the sixteenth century the Ria of Puerto Deseado was used as an anchorage of old ships that sailed the southern seas.
The development of the town across the harbor was a long struggle of the inhabitants of this distant land. In 1928 the port is specified, thus inaugurating a period marking a definite direction.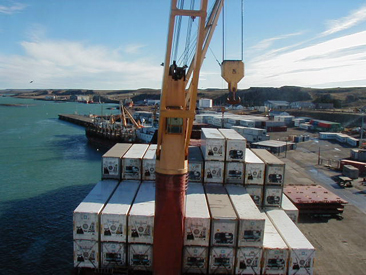 The port on the move. Photo courtesy of Tourism Department of Puerto Deseado.
Throughout the history of the city are periods of great movement, in which the port imported materials for the oil industry in the region and also served to support livestock. Thus, it moved cattle to be manufactured in the refrigerator C.A.P. or for exploitation of wool and meat.
Since 1983, the fishing boom in the Patagonian and special promotions for the sector, allowed the gradual recovery of the port.
As a result, port activity is one of the main pillars of the economy of Deseado yesterday and today.
Its strategic location, natural conditions, the growing port activities and future planned for the port, reasons why the provincial government has extended 216 meters from the dock, making a total of 740 meters.
The place is also a major service and repair complex naval drydock, which provides an efficient attention to the maritime fleet that arrives to Puerto Deseado.
Port Type
It is a natural port, multipurpose, preponderant fishing, suitable for cargo ships, container ships, cruise ships and fishing, among other vessels.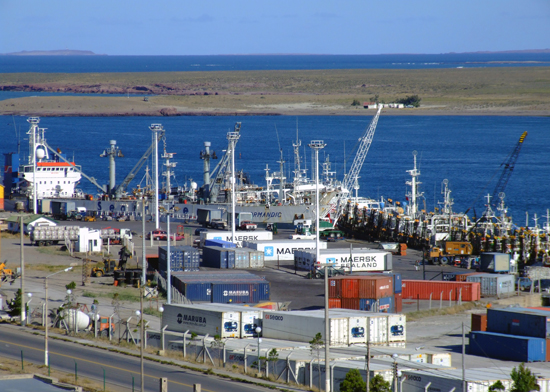 The port has an access channel of 200 meters wide and an area of ​​water surface of 2 km2. Photo courtesy of Tourism Department of Puerto Deseado.
The port is for public use, as it is property of the province of Santa Cruz. It is managed and operated by the Port Executive Unit Santa Cruz (UN.E.PO.SC).
It operates cargo and fishing vessels, general cargo and refrigerated cargo, and in activity continuously growing, containers, traffic belonging to overseas and domestic.