Cerro Bayo, a complete ski center

See map
In the middle of the Andes mountain range and just 9 km from Villa La Angostura, is the Cerro Bayo Ski Center, created in mid 1970 for the alpine skiing and now offers services throughout the year.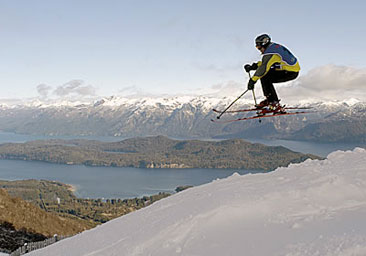 Skiing in Cerro Bayo.
Starting from the villa, you drive 3 kilometers along National Route No. 231 to Provincial Route No. 66 (gravel) which amounts to about 6 kilometers to the resort. Arriving at the base of the hill must leave the vehicle and can be up to the station platform with chairlift or trekking. From this point you get a breathtaking view of the whole area.
For skiing Cerro Bayo has an excellent equipment: 6 double chairs, 2 seater and 4 teleski. These lifts allow to rise an average of 4,500 skiers per hour, who can make use of 20 kilometers of slopes and enjoy an area of ​​200 hectares surrounded by deep snow, especially for snowboarders.
At the Bayo base visitors can rent equipment, make use of ski stores, day care and services in the Ski School. There is also a first aid room that works during the skiing days for athletes who suffer a mishap in their raids.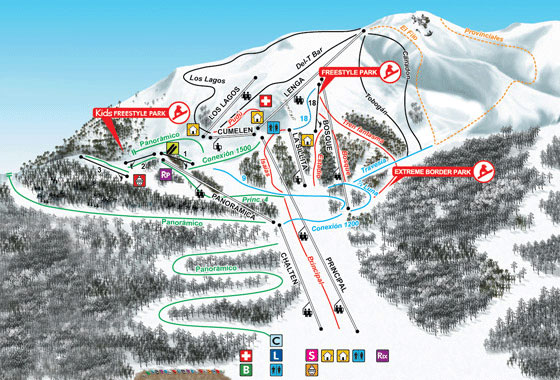 Cerro Bayo slopes.
Skiers who want to take a break and enjoy traditional dishes can go to the tea house at the base "Chalten" or to "Tronador" which is 1,500 meters high.
During the winter season it hosts many traditional events such as the torchlight parade, scheduled every Friday at sunset, if weather conditions permits it. Also competitions held by Argentine Snowboard Circuit whose schedule is assembled from agreements with other ski resorts, and from which seasoned athletes take part, and finally there are tests organized for beginners.
In Villa La Angostura, a town of some amazing growth in recent years, tourists have a wide range of possibilities to stay. There are cabins, hotels and apart-hotels of different categories and values, which vary every season.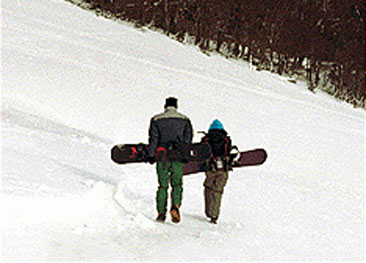 200 hectares of deep snow ideal for snowboarders.
The cuisine of the beautiful town is featured in national and international markets. Lovers of good food can taste typical local foods: wild boar, deer, trout, mushrooms and dairy products made in traditional ways such as jams, jellies and liqueurs.
For those looking to know other beauties of the southern tip of Neuquén, there are excursions from the Port Angostura navigating the breathtaking Nahuel Huapi to the Myrtle Forest. Also a few kilometers from La Angostura is Bahía Manzano, the site chosen by multiple personalities of show business and politics in Argentina.
Villa la Angostura with its Cerro Bayo Ski Resort is one of the most beautiful places in Argentina and the world. Can be reached via paved roads or through the famous Route of the Seven Lakes of incomparable beauty. In winter, we recommend you check the status of this route as the snow sometimes becomes impassable. It is 45 kilometers from the border with Chile, 76 km from Bariloche, 477 km from Neuquén and 1,624 km from Capital Federal.
For a spectacular view of surrounding lakes and hills must continue to station intermediate platform which is at 1050 meters trekking or on the main ski lift.