South American Mountain Ski Championship

See map
Sports in the snow become a classic in winter. Villa la Angostura is one of the many ski resorts that have sports competitions nationally and internationally. In this case it is a mountain running race, the South American Mountain ski Championship, which takes place in August.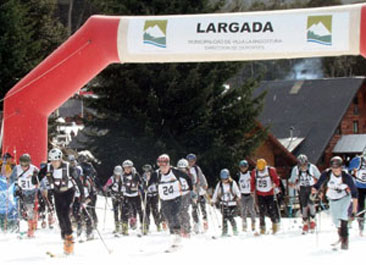 Image from the start.
The race is shaping up as one of the most attractive to adherents of these competencies, with reference to the quality of the land on which it will develop.
The event is organized by the Federación Argentina de Ski y Andinismo (FASA), the Club Andino Bariloche (CAB) and the Club Andino Villa la Angostura (CAVLA), and with the collaboration of the International Ski Mountaineering Federation (ISMF) and the Pan American Union of Mountain and Climbing (UPAME).
Runners and athletes of the region or toher countries like Chile and Venezuela and some european participate every year.
The tour
All categories start from the base of the ski resort Cerro Bayo, ascending through the forest to the summit, which is lowered in a northeasterly direction to the edge of the forest. Then back up to the summit twice, from which go down south to the refuge Club Andino Villa La Angostura 1500 meters high, the place of arrival.
Categories
Categories are women and men in the following classification:
Cadet: 16-17-18 years old
Junior: 19 – 20 years old
Espoir: 21-22-23
Senior: 21 or more
Because of the promotional nature of the event and with the aim of contributing to the dissemination of practice, can participate athletes who are both associated with a federated club as those who are not already.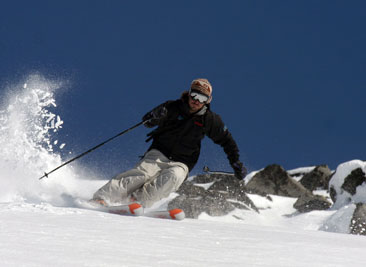 Skiing in Cerro Bayo.
The FASA gives the South American Champion title to the winner of the test, not to mention it's a great sporting event to praise the friendship of the mountaineers.
Material and equipment
To participate in the test each athlete is required to carry the following material that may not be replaced during the test, according to regulations 4.1.1 ISMF:
- Need a pair of skis of a minimum length of 150 centimeters for women and 160 centimeters for men, a pair of seal skin, a pair of Crossing bindings, a pair of boots that allow the use of fixation and crampons must completely cover the ankle and keep the foot fixed.
- Related to clothing, two layers of clothing on the legs (one of them waterproof) and three layers of clothes in the trunk (one of them waterproof), a pair of poles, a mandatory helmet use and a pair of gloves and sunglasses.
It is also recommended to bring a coat and spare shirt to change on arrival.
For more information go to the headquarters of the CAB or CAVLA or communicate via email to info@clubandino.org and cavla@netpatagon.com. You can also do it by phone / fax (02944) 422266 and 494954. The websites of both institutions are www.cavla.com.ar - www.clubandinovla.blogspot.com