Los Arrayanes National Park

See map
Los Arrayanes National Park is located in Quetrihué Peninsula, north of Lake Nahuel Huapi. It gets its name because it was created to preserve a myrtle forest. These trees have white flowers and cinnamon colored bark with whitish spots.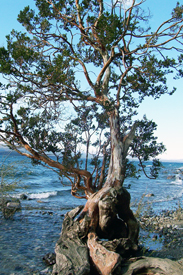 Myrtle. Photo courtesy of Esther Rodriguez from patagonia.com.ar album
This natural reserve is located within the Nahuel Huapi National Park.
Hiking in the park
Near Villa La Angostura there is a 12-kilometer footpath that leads to the myrtle forest. In the forest of myrtle there is a cafe and toilets.
No camping is allowed within the Arrayanes National Park.
Directions
Through the Lake Nahuel Huapi from Puerto Pañuelo in Bariloche and from La Mansa and La Brava bays in Villa La Angostura. By land you reach Villa la Angostura through national routes 237 and 231 from San Carlos de Bariloche and 234 from San Martin de los Andes.
More information
San Martín 24 C.C 380, San Carlos de Bariloche
Phones (029) 44-423121/423111/422734/
436227 (education)/44-422989