Classic Cars Rally through the coasts of Patagonia

See map
A new proposal links the resorts of the Patagonian coast through National Route No. 3, also known as the Blue Route. This is the Classic Car Rally of the Blue Route, an event that brings all the color and excitement of old cars.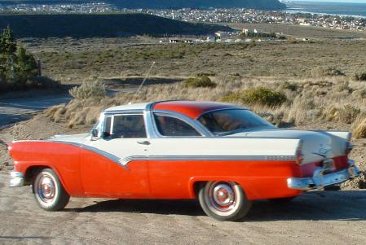 Ford Victoria Crown Coupé 1956. Photo courtesy of the Classic Cars Club of the Patagonia.
The first edition of this competition was held on 29 and April 30, 2011. The route connects the cities of Comodoro Rivadavia and Puerto Santa Cruz, and also goes through the beautiful Monte León National Park, a landscape composed of canyons and beaches to enjoy the Patagonian air and watch the sea birds, sea lions and the guanaco. classics in Patagonia.
The event is organized by the Classic Car Club of Patagonia and has the support of the Convention Bureau and the municipalities of Comodoro Rivadavia and Puerto Santa Cruz. It was also deemed "municipal interest" by the City Council of Puerto Santa Cruz.
The distance is 1274 km in three stages:
the first begins on Friday with the departure from the Fairgrounds in Comodoro to Puerto Santa Cruz (578 km);
the second is on Saturday, leaving from Puerto Santa Cruz to the Monte León National Park and the trip back to Puerto Santa Cruz (118 km);
and the third stage on the Saturday, go from Puerto Santa Cruz to finish at Comodoro (578 km). Upon arrival, participants will be treated to dinner and will give them the awards.
The event has the presence of cars and trucks with more than 30 years old, being the upper limit 1981 cars. Pilots from different localities of Chubut Province and other cities come to the competition to enjoy a family outing and very unique. Participants are cars from Buenos Aires, Neuquén, Mar del Plata, General Roca, La Pampa, El Calafate, Río Gallegos, Comodoro Rivadavia and Piedra Buena.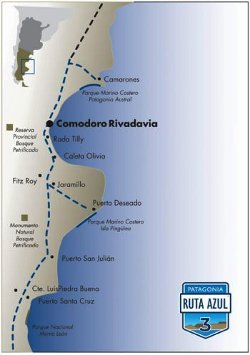 Blue Route in Patagonia. Photo courtesy of Dirección de Turismo de Comodoro Rivadavia.
At the same time develops in the town of Puerto Santa Cruz an exhibition of more than 40 vehicles on street San Martin, between Sarmiento and July 9.
The Blue Route Corridor
The famous National Route No 3 is called the Blue Route that runs along most of the Patagonian coast of Argentina. The tourist corridor starts in Bahía Bustamante in the province of Chubut, where it goes through the Patagonia Coastal Marine Park and the cities of Camarones and Comodoro Rivadavia.
On its way through the province of Santa Cruz includes the towns of Caleta Olivia, Puerto Deseado, Jaramillo Petrified Forest, Puerto San Julián, Piedra Buena, Santa Cruz port and ends at the Monte León National Park.