Comodoro: distribution center in the Central Corridor

See map
Comodoro Rivadavia is the most important city of the Argentinian Bi-Oceanic Corridor and is the largest city in southern Patagonia with its 144,000 inhabitants, and ranks as an urban center with outstanding services with the greatest impact in the region.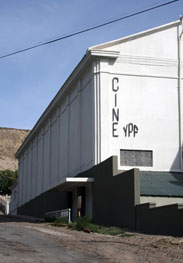 Comodoro's cinema. Photo courtesy Agencia Comodoro Turismo.
Its proximity to the Pacific Ocean (about 600 km.) and integration with Chile carried out through international agreements, makes it a fundamental end of the Bi-Oceanic Corridor and distribution center in the Central Corridor. This structure has a very important service with modern hotels and dining establishments that offer an excellent service, numerous incoming agencies and a comprehensive network of ground transportation and air. It also offers recreational facilities such as casino, pubs, clubs and museums related to oil and paleontological activity.
Comodoro Rivadavia: Oil Capital
Comodoro Rivadavia is the most important pole of development in the region it has a high quality metallurgical industry from its oil tradition.
The landscape caused by this activity is shoking and attractive, operating sites located around the so-called San Jorge Basin supply the highest percentage of oil consumption. Characteristic "balancines", as they are known to the pumps, are cut from the wild and pristine Patagonian plateau.

View of the city of Comodoro from Chenque Hill. Photo courtesy of
nestor galina
.
Cerro Chenque viewpoint
The Chenque hill with its imposing figure crosses the entrance to the historic downtown of the city by the north of it, while offering a magnificent view for those wishing to reach their viewpoint, which is accessible by car. From there the observer may see an overall view of the city, the port sector and the sea horizon of the Atlantic Ocean.
Beaches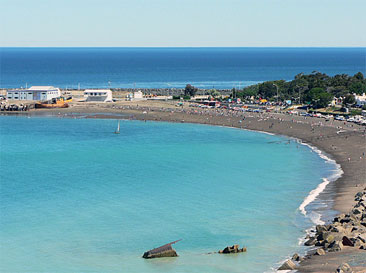 The coast of Comodoro in summer.
Comodoro Rivadavia has different beaches of fine sand and pebbles, such as the Coast beach located in the center of the city, Km 3 Beach and Km 5 Beach, 3 and 5 km from the center of the city respectively. Also, the beach resort village of Rada Tilly located 13 km away.
Note that each beach mentioned above, in summer, has lifeguards service and police security. Await extensive and peaceful beaches, a rich variety of species and a shocking nature.
Commodore: gateway
The town is the gateway to other enshrined attractions such as the Ria Deseado with its rockhopper penguins, petrified forests Ormachea and Jaramillo and the National Park "Monte Leon". All of them make Comodoro a real header of the Blue Route, which borders the Atlantic and connects various places of high tourist interest.
It also means a profound impact on the socioeconomic structure of the city, thanks to the commissioning of the Coastal Marine National Park, Commodore is projected as a national and international attraction, that would not only live on oil.
Report by Dir Municipal Tourism Comodoro Rivadavia