National Steam Train Festival

See map
Every second week of February the city of El Maitén dresses up to celebrate the Trochita, the world's smallest steam train, with the National Steam Train Festival and Provincial Little Train Festival.
This festival emerged in 1983 when the carnival was celebrated with a parade of floats. The following year it became the First Regional Little Train Festival and 10 years later became the National Steam Train Festival.
The tour of The Old Patagonian Express or Trochita covers 402 kilometers and links Esquel (Chubut) with Ingeniero Jacobacci (Río Negro).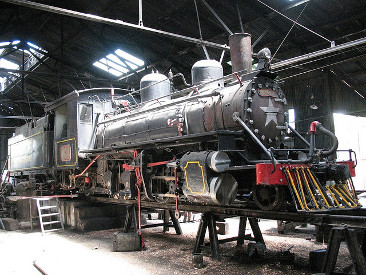 La Trochita's workshops in El Maitén. Photo courtesy of
PabloBD
.
Every year the celebration is in front of the train station, that involve activities such as racing sluts railway, train rides, horse races, Creole skills, timing railway, cultural and historical photographic exhibition of El Maitén, trekking to the Canyon of Dreams, soccer, volleyball, shuffleboard and performances by national, provincial, regional and local artists of the most diverse genres.
But one of the main attractions of the festival is the Parade of Floats. Contrive makers year after year to delight the audience with clear messages, full of beauty and movement. In addition, there are stands with food, beverages and handicrafts.
It is the most important event of the town that calls between 8 and 10,000 people in the days of bigger audiences, and one of the most important festival of the Andean region.
Another highlight of the occasion is the election of the National Queen of Steam Train, for which candidates from various parts of our country willing to pose for one year to the city.
These are the seasonings of a three-day celebration that pays a fitting tribute to all hardworking since the beginning of the century kept alive the legacy of the Old Patagonian Express.