Provincial Shearing Championship

See map
As usual in the southern line, takes place the last days of January the "Provincial Shearing Championship PROLANA" in Valcheta.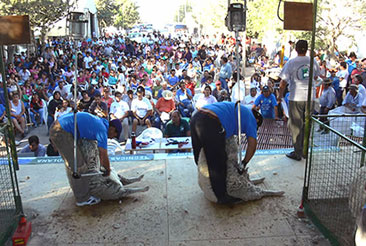 Spectators were dazzled by the sharers in the championship.
This event seeks to demonstrate the productive activity of the south line through a competition where shearers are measured best in the region and the province. The tournament aims to promote and disseminate the fundamental work of shearers, personal effort and that of their families.
The organization is in charge of Prolana Río Negro and the Municipality of Valcheta and it takes place outdoors, in the sports sector flats located in the center of town. There is mounted a stage, beside the stream Valcheta, where the contestants parade and there are some cultural performances.
The start of activities is planned with local mayor's words. Following are the qualifiers and Sunday made ​​the quarterfinals, the semifinals and the championship final.
From the organization is expected to have about 30 competitors representing different shearing companies authorized by the Prolana in the last harvest. All will participate for major prizes, achieved thanks to the support of institutions, organizations, businesses and contractors.
The Provincial Champion and the one who was in second place will represent the province at the next National Shearing Championship which is carried out in Santa Cruz during the month of March.
Related Articles
Touring Valcheta
Valcheta has many places to visit and learn about the history and culture of the region.
Cultural-Historic circuit in Valcheta
The town of Valcheta has designed a circuit in order to identify all existing resources in it, whether natural, cultural, human and infrastructural of a great tourist value.
National Matra and Crafts Festival
The town of Valcheta is unique, like the entire department of the same name, for being the area of ​​residence of the artisan weavers of "matras". For that reason and to keep revaluing the ancestral culture it is held every June 19 the Matra and Crafts Festival.
See all Articles