North-coast circuit

See map
Caleta Olivia
Caleta Olivia is located 50 km from the border with Chubut, on National Route No 3 and is configured as the gateway to the province of Santa Cruz. It is the second location for its turnover and oil since 1944, when the well 0.12, in the vicinity of Cañadón Seco, revealed a rich napa oil. Its main attraction is a fantastic journey along the coast of the Golfo San Jorge with cliffs and sandy beaches.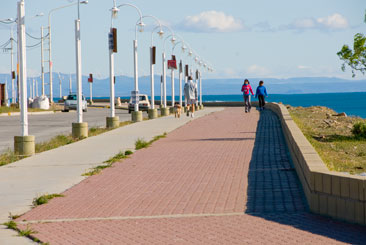 The coast of Caleta Olivia, ideal for walking. Photo courtesy of A. Patrian.
Pico Truncado - Las Heras
These population centers are faithful exponents of Patagonian development driven by oil and gas resources in the basin of the Gulf of San Jorge. In addition, during the month of January, Pico Truncado becomes the seat of the Southern National Folklore Festival.
Puerto Deseado
Puerto Deseado is a wonderful town with harbor and cliffs, history and landscape. Quintessential tourist resources are reservs at Cabo Blanco, Ria Deseado, Bahía Laura and Isla Pingüino, home to the most diverse marine birds, among which include cormorants, penguins, Magellanic and Rockhopper, Antarctic pigeons and oystercatchers. Attractive complement its two major annual events: the pilgrimage to the Grotto of Lourdes and the shark fishing contest.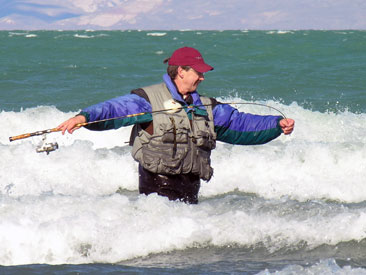 Fishing in Lake Cardiel. Photo courtesy of Dirección de Turismo de Gdor. Gregores.
Gobernador Gregores
Fertile town in the center of the province. At 75 km is Lake Cardiel that is easily accessible by National Route No. 40, which is considered the fish richest lacustrine mirror of the province for its great concentration of salmonids.
Puerto San Julián
Puerto San Julian is located in a picturesque bay between Cabo Curioso (with excellent beaches) and Punta Desengaño. You can take boat rides to the islands Cormoran and Justicia, which are populated by very varied marine bird species. It was declared a historic landmark, evoking the celebration of the first Low Mass in Argentine, on the occasion of the landing of Magellan and his crew in 1520.
By Undersecretary of Tourism Santa Cruz