Proposals for Easter

See map
Easter comes, and if you have not set up your trip, Patagonia.com.ar offers you six proposals, which are ideal for this time and that will do not disappoint you.
El Chocón: Dinosaurs, a modern dam and more ...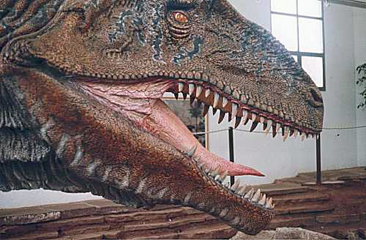 A "dino" replica in the Municipal Museum of Paleontology of El Chocón.
This type of tourism is special when you have just two or three days. And even for those who are attracked by paleontology and prehistory. You get there on a plane to Neuquén capital, and from there are 90 kilometers by car to the village. You can program different rides. Of course, a thorough visit to what is the symbol of El Chocón's tourism: paleontology. It is the municipal museum, where dinosaur fossil of the largest carnivore found so far are exhibited. You can also visit the Valley of the Dinosaurs proper, where there are traces and remains of them, and a petrified forest. All the land remained in the prehistory.
Leaving this subject, you must visit the hydroelectric dam, which is one of the most impressive engineering works in Argentina. In fact, it supplies power to half of the country and during the construction of it was created the village.
Finally, it is advisable to spend a day in the artificial lake Ramos Mexia, where you can do all sorts of activities ranging from fishing and boating to water skiing, not to mention trekking and camping in beautiful surroundings cliffs.
Eternal Bariloche
It is a destination that many choose for Easter. Is that this highly developed resort has everything to offer. Lake excursions to Victoria Island and Myrtle Forest, trips to Cerro Catedral, where at this time you can make ascents by chairlift or on foot, a trip by car or bus to the foot of the Cerro Tronador and Los Alerces Waterfall, take a tour by Circuito Chico or Circuito Grande, which takes already a whole day.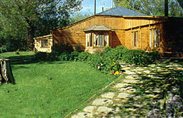 The stays are a good opportunity to rest in Easter.
Stays
The agrotourism options to enjoy in Patagonia are very extensive. But, undoubtedly, it is a very convenient choice for a mini-vacation. Large tracts of land, the opportunity to learn about cattle ranching, horseback riding, trekking to places almost inaccessible, fishing in rivers and Patagonian nature in all its glory.
Madryn awaits you
In this city you can take boat trips, dark dolphin watching, the most acrobatic species known, or see the rookeries of sea lions and elephant seals.
Other proposals are underwater baptisms in the National Diving Capital, an activity that may experience those who can not swim as those professional divers who want to go natural or artificial underwater parks. Make adventure trips in 4x4 or mountain bike and go fishing and shipped coast.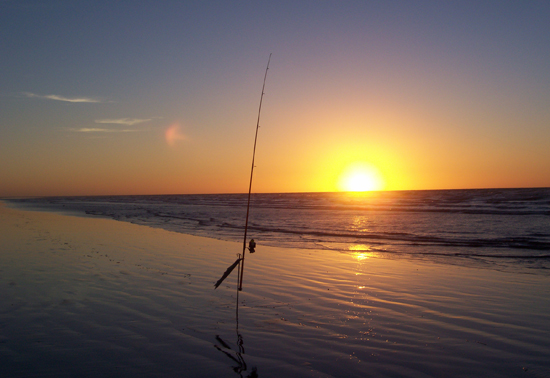 Sunset on the Peninsula waiting the fish. Photo courtesy of Sergio, Patagonia.com.ar photo's album

To internalize in history, culture and wildlife of the area you can tour the Exhibition Center of Punta Cuevas, the Ecocentro, the Oceanographic Museum and Science Natural Museum, the Municipal Museum of Art, and the Paleontological Museum Egidio Feruglio, the most important museum of South America located in Trelew.
Add to this the proposal are the Peninsula Valdes and the region of ten tourist stays, each of which is characterized by attractions and particular activities such as horseback riding, private beaches, interpretative walks, marine fossils, wildlife blinds. These are special places to enjoy the traditional Patagonian lamb or a mate round with fried cakes.
La Trochita, Trevelin and Esquel
The Trochita is a narrow gauge train with machines of the early twentieth century, that gives off black steam and runs on a breathtaking landscape bordering the Andes. Many have probably heard of it and what is a better way to meet her at Easter.
Staying in Esquel and Trevelin you can tour the area visiting the Futaleufú dam and river, the Los Alerces National Park, the Leleque Museum or take a trip to El Bolsón. In addition, you can go to the picturesque Trevelin, full of Welsh culture and, together with Gaiman, they have preserved the essence of Welsh colonies. You can taste culinary delicacies and customs of the community in some of the tea houses of the place.
Las Grutas
Chances are that in Las Grutas there is no longer the warmth of the summer that attracts thousands of tourists at that time. But many choose it in the fall, just to breathe tranquility in those beautiful beaches with cliffs and blue sea. By plane you can get to the airport which remains in the access to Las Grutas and by car you access by routes from the four corners of the country.
Since there you can schedule a tour of the levees with mollusks, take a trip to Las Coloradas, to a seabird reserve San Antonio Bay and the nearby deep water port of San Antonio Este, where all the fruit comes to be marketed the outside. You can also stroll through San Antonio Oeste, a fishing town, or simply walk the beaches and enjoy the calm of the manner you like most.