North-Andean Circuit

See map
Los Antiguos
Los Antiguos is a border town on the shores of Lake Buenos Aires. It has a particular microclimate that permits the cultivation of fruits and vegetables and there is celebrated every January, the National Cherry Festival. Characterize the landscape a beautiful snowy landscape of high mountains, including Mount Zeballos that stands out for its endless possibilities for trekking.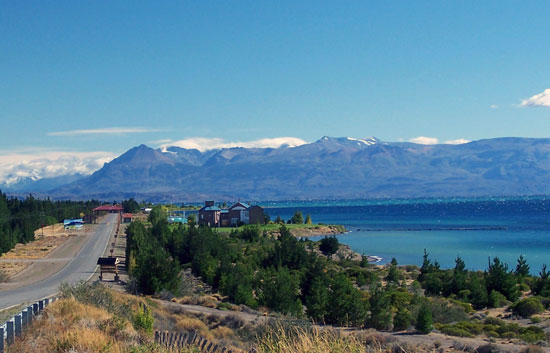 Entrance of Los Antiguos on the shores of lake Buenos Aires. Photo courtesy of M. Basalo.
Perito Moreno
Tourism center in the northwest sector of Santa Cruz, with accommodation and camping. In its area of ​​influence is the canyon of the Pinturas river with the world famous paintings friezes in "Cueva de las Manos" and Parque Laguna and the headwaters of the Deseado river, ideal for sport fishing.
Cueva de las manos
In the Pinturas River valley and the top of the canyon walls and superb whimsical forms, is one of the most important rock art in Patagonia. La Cueva de las Manos offers the testimony of customs and beliefs of the group of people who lived in the place 9000 years before Christ.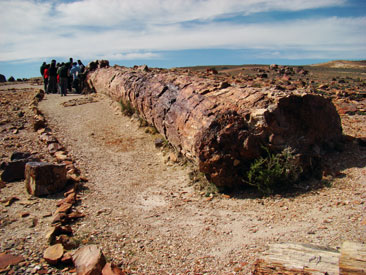 Jaramillo Petrified Forest. Photo courtesy of F. Orengo.
Jaramillo Petrified Forest
210 km from Caleta Olivia and 234 km from Puerto Deseado there is this natural monument that brings together a group of giant fossilized tree trunks up to 150 million years old. These trees were at ground as stony testimony of another era.
Hipólito Irigoyen
The town is located 210 km south of Perito Moreno on the banks of Lake Posadas, and is a great place for salmon fishing. From here you can make fantastic excursions to the Oro River Gorge, ending the trip with the contemplation of Cerro San Lorenzo, the highest of the whole province (3706 mts).
Perito Moreno National Park
The protection of beautiful lenga forests and interesting lake systems including glaciers and waterfalls, fossils and rich fauna, justify the creation of this lonely park. Can be spotted, among others, herds of guanacos and rheas.