Cueva de las Manos: a Cultural Heritage of Humanity

See map
Surrounded just by the constant murmur of the Patagonian wind, open the Pinturas River Canyon. There, among the folds of its high walls, rock art is found in the Cueva de las Manos, where people from 9,000 years ago sealed their art and their life testimony.
Its fame is not for nothing. Those hands, guanacos and geometric patterns in the stone of the cave are the oldest expression of South American peoples are aware. Unesco understood this when in 1999 it was appointed Cultural Heritage of Humanity.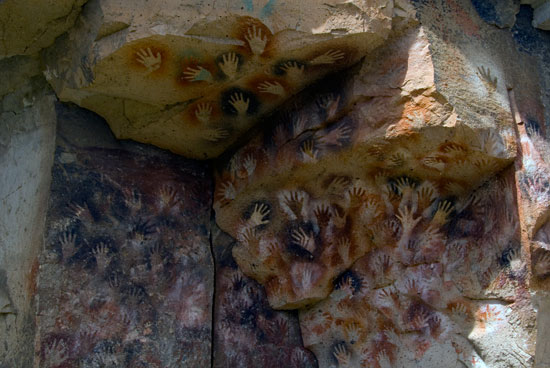 The caves saved works done by tehuelches and their ancestors. Photo courtesy of A. Patrian.
Its location, alone, in the middle of the desert northwest of Santa Cruz, lets kept intact. The nearest town, Perito Moreno, is 163 kilometers away. And beyond, and near the mountain range, there is Los Antiguos, which was the resting place of the elders of the tribes that disappeared.
This whole area and not just the cave, including the Perito Moreno National Park, is a rich archaeological and paleontological site. The valleys, canyons, lakes and rivers that make it up jealously shelter paintings and different types of archaeological sites in which men walked 14,000 years before Christ. And between the weeds there are fossils that testify the existence of a sea in this region long before man inhabited. In fact, the town of Perito Moreno is called the Archaeological Capital of the Province of Santa Cruz.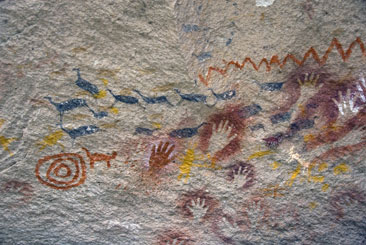 You can find any kind of images in the walls of the caves. Photo courtesy of A. Patrian.
Caves of Pinturas river saved works done by the Indians and their ancestors tehuelches. Its age is 9300 years, according to research. There are, besides negative handprints, pictures of guanacos, geometric patterns, clusters of lines, dots and solar figure. The largest congregation is in the actual cave, Cueva de las Manos, which is 24 meters deep, 15 meters wide at the entrance and about 10 meters high up to the beginning of the visor.
On both sides of the entrance, there are small spaces in the light, but partially protected by the projection of the Visors. The eaves are formed by protrusions that protect the paintings from the wind and sun.
It includes three levels of culture, with an estimated range from 7370 BC to 1000 AD. Although this assessment is relative, since the realization of the paintings may have taken place in short time, in an almost synchronous or far apart in time.
The color of the negative imprints of hands depended on obtaining raw materials close to each site, but most are in red (hematite), white (limestone), black (manganese or charcoal) and yellow (limonite or yellow ocher).