South-Andean Circuit

See map
El Calafate
Located on the southern shore of Lake Argentino, El Calafate is transformed into a tourist center for senior provincial located near the Perito Moreno glacier. It is a picturesque tourist village, a haven of peace and vegetation that wonder the traveler accustomed to the arid Patagonian landscape.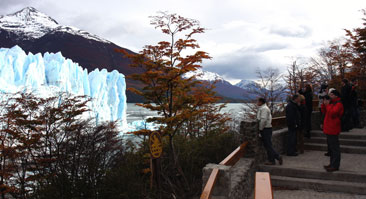 Contemplating the vastness of the glacier. Photo courtesy of Virginia Zapana.
Los Glaciares National Park
Located in the southwest of the province of Santa Cruz. It has a total area of ​​600,000 hectares, where countless glaciers descend from the Andean southern continental fraction feeding lakes populated with trouts, salmons and perchs. The Andean-Patagonian forest heavily populated of beech, ñires, coihues and cinnamon gives an imposing frame to the main attraction: the Perito Moreno glacier, which together with others it can be seen from shore or aboard lake excursions. The mini trekking on the glacier complements this experience with the fascinating experience of walking on the glacier itself. 60 km from El Calafate, the Lake Roca area reserve offers excellent opportunities for camping, wildlife watching and fishing.
El Chaltén
A 220 km north of El Calafate, the tourist village El Chaltén is adjacent to reserve area Lake Viedma. The landscape is dominated by Torre and Fitz Roy hills, imposing granite needles that are a constant challenge for all climbers in the world. Viedma and Moyano glaciers shed its ice on the lake and stormy rivers populated with fish. Interesting alternatives can be enjoyed as trekking, horseback riding and sailing across Lake Viedma where you will sight Viedma and Moyano glaciers.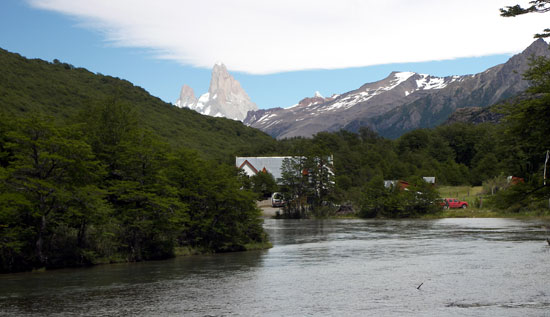 Lake Del Desierto and Fitz Roy hill in the background. Photo courtesy of Jan Zakelj.
Lake Del Desierto
Located 35 km north of El Chalten, this glacial lake lies in a box valley surrounded by steep slopes lined with a Patagonian Andean forest of huge specimens. Wide range of trekking provide new views of the Fitz Roy massif.
Río Turbio
During the winter months is the ideal destination for lovers of nordic and downhill skiing. The Valdelén Winter Sports Center has all the necessary services to enjoy a pleasant stay. In spring and summer, ancient forests of beech make it up as a place suitable for camping and fishing.