Cruises in the Patagonia

See map
Spring and summer are synonymous with cruise ships that arrive in the southern region of Argentina. Large companies offer trips to the coast of Argentine and Chilean Patagonia and Antarctica.
Traveling on a cruise is a navigation option to the cold waters of the end of the world, the southernmost region of the world and untouched before the White Continent. In these cruises you sail through the Strait of Magellan and the Beagle Channel, knowing fjords, bays, glaciers and islands.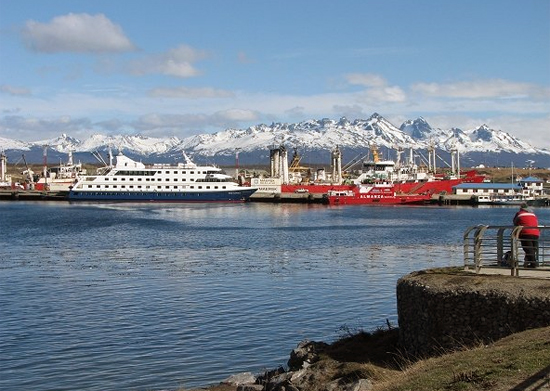 A cruise ship entering the port of Ushuaia. Photo courtesy of the
official website
of the province of Tiiera del Fuego.

On their way to the south of Argentina and Chile, cruises have different stops on the Patagonian coast such as Puerto Madryn and Ushuaia, where travelers can tour the major attractions within a few hours or full day planned in this itinerary.
Why a cruise?
Many wonder what is the magic embark on these majestic ships and the answer is at hand. For those accustomed to luxury and comfort, cruises are the ideal choice for a wonderful holiday. Wake up and watch the sea from the window, go a new city, find a different landscape, a dip in the pool or go to the cinema, theater or disco pub are some of the options offered by life aboard the giants of the sea.
In the month of October is opened the Cruise Season in Puerto Madryn, where for a period of almost five months circulate in the marine terminal near 20,000 foreigners. Some cruise even have more than 1,500 passengers and 925 crew members. Tourists have the opportunity to enjoy an unforgettable experience: to see southern right whales in the wild and at few meters, on board the ship or in special ships approaching the whales in the waters of the Peninsula Valdes without affecting their environment.
Also, the capital of the end of the world, Ushuaia, has cruise ship arrivals of smaller size since September, and in October Antartic vessels arrive.