Culture, a different way to know Patagonia

See map
There are different ways of knowing the culture in Patagonia. From visiting museums and monuments to attend state or national festivals. Knowing the life, history, economy of a place, while appreciating the landscape, is a different way to enjoy the sites.
A good way to learn the history of where we are is to visit a museum. A museum is an institution open to the public that aims at spreading the culture. Throughout Patagonia there are different historical and archaeological museums which allow us to know how were the places even before the presence of man.
The national or provincial festivals are generally related to the main activity in the area. Such as the National Apple Festival in General Roca or the National Petroleum Festival in Comodoro Rivadavia. In these fest you can enjoy local and national artistic presentations, creole skills and demonstrations of typical activities in each place.
Patagonia was populated, as most of the Argentine territory, by immigrants. In different places you can visit the different communities that are generally open to convey stories of their arrival.
However, before the arrival of immigrants, inhabited the place native peoples. There are still communities where you can come to converse with the natives.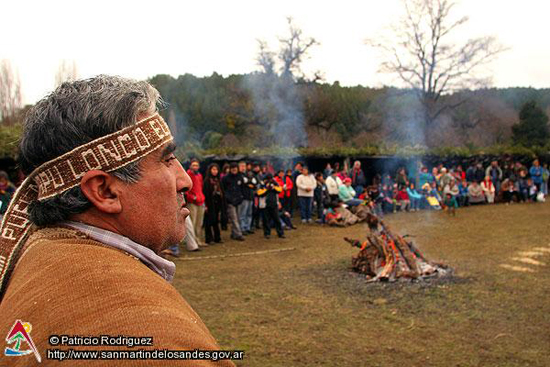 Mapuche New Year Celebration in San Martin de los Andes. Photo courtesy of Patricio Rodriguez.