To read and learn: Bustillo en Patagonia

See map
A literary work that seeks to honor the architect Alejandro Bustillo (1889-1982), whose work in Argentina was developed strongly between 1930 and 1950 (being adviser to the team of architecture and urbanism of the first Department of National Parks) and until the end of his life, leaving an indelible imprint on every landscape of our country and in the urban landscape of Buenos Aires.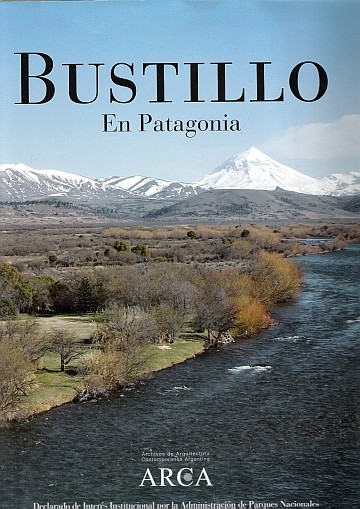 Book cover "Bustillo en Patagonia", a work of Martha Levisman in conjunction with ARCA (Contemporary Argentine Architecture Archives).
Most architectural works are in the cities of San Carlos de Bariloche and Villa La Angostura, but there are works in the rest of Patagonia and the federal capital. For this reason, the architect Martha Levisman, custody and curator of Bustillo Fund since 1982, decided to conduct a research to compile the imprint of Bustillo in Patagonia.
As a result she get this literary copy, which details Bustillos's work by work in Patagonia accompanied by descriptive stunning photographs. Through accessible language rid of as many technicalities, the author tells the story of National Parks and lists Bustillo architectural interventions in Patagonia. In addition, an excellent photographic documentation of Andrés Barragán and of the photographic archive complement the written information and helped the book to be declared of "institutional interest" by the National Parks Administration.
One of Levisman's goals is that the book serve to understand the architectural idea of ​​Bustillo without too much difficulty, so that it has helped of many images that bring the work to the general public. That is, not only to architects but to every individual culturally curious.
Contents of the book "Bustillo en Patagonia"
The book begins with an introduction on the history of the National Parks and the style defined by the same architects José Manuel Bustillo (grandson of Alexander Bustillo), Sonia Berjman and Martha Levisman. It then continues with a list of projects completed divided by national park, city and quality of the work (private or public).
Among the major works in Patagonia are to highlight the Hotel Llao Llao, the cathedral, the railway stations in Bariloche, the Messidor in La Angostura, the Antumalal Set with the tower on Lake Nahuel Huapi, which Bustillo has as residence in San Pedro Peninsula.
Another literary work on Bustillo
On the other hand, the author previously published another book ("Bustillo - 'A National Architecture Project'") which is a selection of all the work of Bustillo, which thanks to its versatility express the essential ideas of the decades 1920 and 1960. Both literary works are products of research that Levisman conducted with the personal file of Bustillo, who gave it to her 25 years ago.